There are many different strategies for property investments. Lease to Own Property Investment is one of the many creative strategies to investing in properties. Leasing to own properties can be a very good strategy to acquiring property especially if you don't want to go to a bank for a traditional loan.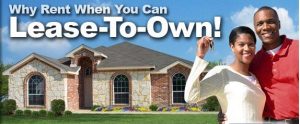 Leasing to own properties does have drawbacks but if the terms are acceptable it can be a great way to acquire a property.
A lease-to-own strategy is when owner rents out a home to tenants with a legal agreement giving the tenants the exclusive right to buy the home within a certain time period.
In other words, tenants can move into the home, pay monthly rent, and buy the home at some point in the near future.This process allows the tenants time to save up the required down payment, build their credit, establish longer job history, or repair whatever is making it difficult to obtain a mortgage.
There are many incentives for an owner to agree to a lease to own sale. Those include but are not limited to the following: tenants are responsible for the repairs, incentive for on time rent payments, rent to own folks will take better care of property, less turnover and usually a higher sales price.
Lease to Own Property Investment works for both the buyer and seller.
There are many cases where investors can find motivated sellers and use the lease to own option to their benefit. For example, folks with little to no equity in properties or folks facing foreclosures will sign a lease to own contract as they can't pay a realtor's commission and don't have the ability to wait months to sell their home.
A lease to own property investment gives you control of the property and can generate cash for you, but you don't need .
Lease options are a great way to get started investing in real estate, especially if you have little or no cash. Options let you control property without having to buy it, and you can profit throughout the process. Lease to own property investment is a creative strategy that should be used by an investor, especially when the circumstances are appropriate. Lease to own strategy is a great one and should be used regularly. Happy Investing