You should be aware of the most used Types of listing Agreements if you are Investing in real estate is a full time job and can take a lot of time and effort.
As an investor you want to do whatever you can to give yourself the highest return possible.
After you finish renovating your property you are probably going to want to list the home with a real estate agent.
A hard working agent will give you the best opportunity to sell your home quickly.
As I said, You should be aware of your listing agreement options and to know the differences so you can choose the best fit for you and what you are trying to accomplish.
The three main types of listing agreements are:
 Open Listings,
Exclusive Agency Listings and finally the
Exclusive right-to-sell listing.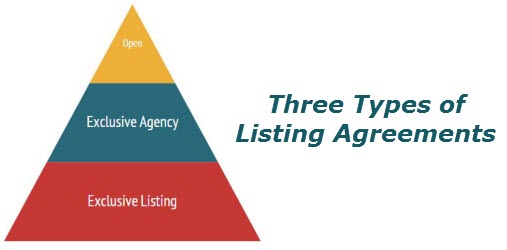 An open listing is where the seller (you) have the right to employ any number of brokers as this is a nonexclusive type of listing.
An exclusive agency listing is where the seller (you) hire one broker to act as your exclusive agent, however under this agreement the seller (you) have the right to sell the property without having to pay the broker a commission fee.
Finally, an exclusive right to sell listing will be the broker's preference as one broker is hired as exclusive agent and the seller (you) would be required to pay the broker a commission even if you found the end buyer.
In addition to those listing agreements mentioned above, there are net listing agreements, where the seller (you) tell the broker what you want to get out of the property and he or she will profit whatever is above and beyond your "asking price".
Another option would be a limited services agreement, in which you would pay a real estate agent for certain tasks, in this type of agreement you can save yourself a commission fee.
Whichever listing agreement you choose make sure to do your due diligence and research. There are many options out there, each one has its benefits and drawbacks.
Personally, I prefer non-exclusive agreements, however some agents will work much harder under an exclusive agreement which may be reason enough to go in that direction.
The most vital piece is choosing the best firm and real estate agent out there.
Happy Investing.