Whatever business you decide to pursue, you will need to be able to handle difficult clients. Unfortunately, real estate is no different, so make sure you are ready to deal with those "difficult" folks. To be the very best at your job, you need to know how to deal with not only the very easiest customer but also those that are challenging. It won't necessarily be easy when you need to work with and please those difficult folks. Below are some avenues that I recommend when dealing with hard to please customers within real estate. You've got your work cut out for you when a hard-to-please client comes along. Here are some solutions that real estate professionals have found for working with difficult customers.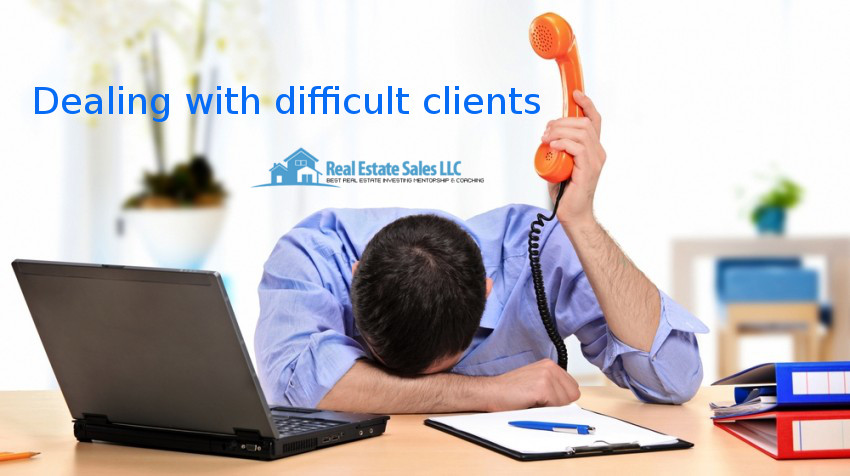 Number one, make sure to always keep your ears open and listen. When I have a difficult client, my biggest priority is listening. I let them talk until they finish. This serves two purposes: One, they get their issues and concerns off their chest and they realize I am different than other folks as I care. Second, I am able to determine if any of their concerns are legitimate. Many times their concerns have no legitimacy whatsoever, nevertheless if it's important to the client to be given the chance and I need to give them an opportunity to express those concerns. Then once they're finished, I reassure them and get back to the job at hand. Listening will serve you well in real estate as well as any other occupation and your personal relationships.
Number two, you will want to prescreen clients for serious personality clients. Prior to working with any clients, I like to conduct a pre-client interview with each potential client to ensure that we can work well together. As we all know, each individual has different needs and wants, and it's important to know that theirs are in line with mine before I take them on. If I don't feel it is a good match, I'll usually recommend them to a peer of mine which they usually appreciate greatly. You need to make sure your client is a good fit for you before proceeding and wasting hours of your life than you will never get back. If after our interview we both feel good with one another than you should have no issue moving forward. Prescreening does not always work but it's better than going into a situation completely blind. We all know we can't always pick and choose our clients or the other parties involved in our transactions. When situations like that come up, I always and I mean always try to put myself in the shoes of the customer/ party with whom I am working with. What are their struggles and what are their challenges and how can I help? Something that may not be an issue for me could be a serious issue for someone else and I will do my very best to understand where that individual is coming from which is not always the easiest of tasks but worth trying.
Number three, educate your clients as you would be surprised how desperately they are in need of your wisdom. Now, more than ever real estate professionals and many other businesses are more inclined to put up with difficult buyers as competition is fierce and we are in need of that sale. However, I strongly believe that their comes a time where all real estate professionals should and need to put their foot down and educate those difficult buyers/sellers as to how the interactions should work whether it is between the agent and buyer or agent and seller. For this to work, all real estate professionals need to do this, so the difficult buyer will ultimately need to change his or her behavior and not be able to go on and try to manipulate every other real estate professional they work with. As real estate professionals, it is vital that weare proactive rather than reactive. We must continue to further our education in the fields of our practices so that we can properly address the concerns of our clients and give them the confidence they need to proceed. I think once clients have a clear understanding and appreciation of all the efforts put forth by their real estate agent, they will then be much less difficult to work with and much more a pleasant moving forward.
Number four, find creative solutions for your clients. If you are in real estate, I am quite certain that you have dealt with buyers that were looking for a needle in a haystack and were not willing to compromise one iota. I was recently working with a buyer who was looking for a rental property but wanted one that was in pristine condition. This lady did not want to paint, she did not want to make a single repair, she didn't even want to have to clean the place, and in fact she was going to replace the microwave because it was in need of a cleaning! We ultimately found a property after I persuaded her to use one of my trusted handymen and a very good maid service in town. I bought her a home warranty as a closing gift as I knew that would be very important to her. This lady was a pain in my neck but I ultimately got the deal done. Sure, I had to do a lot of listening, hand-holding and reassuring, but it was worth it in the end. When dealing with a difficult client, always put yourself in his or her place and try to understand what would make a difference for them.
Number five and lastly, put yourself in their shoes. Often, when we're not able to connect with a client, it's because we are trying to convince them to see things our way, from our perspective. Unfortunately, this doesn't get the job done in most cases and is a futile effort. You need to communicate your position through their perspective. If you are not able to put yourself in the shoes of your client, you can rest assured that you will have very little success in this business or any other field. If you are able to understand what is important to your client and why it is important to them than you will be well on your way to closing your next deal. Understand what the client's challenge is — by asking. Repeat the concern. If you don't understand why it's a concern, ask again."
Above, are five ways I deal with difficult clients and I suggest you do the same. Difficult clients can range from bargain hunters, disrespectful buyers, folks that will only negotiate verbally and unemotional investors to name a few. When dealing with a difficult client, you must have a game plane in place and to always communicate and try you're very best to understand where your client is coming from. Make your client feel comfortable and remember that no two clients are the same so you must always be able to focus on the needs and wants of each individual client.