Have you ever wondered How to build a formula for Real Estate Investing? If you are serious in making a career investing in real estate than you better have a plan of action in place.
To go at this endeavor on your own would be a terrible mistake and would make it that much more difficult to have success. You will need to put a formula together for your real estate investing career. This includes but is not limited to registering a business name, finding motivated sellers and investors and being able to determine what you may be able to offer for a property.
In order to have success in this business you need to surround yourself with competent experienced investors and have a business model that you can follow step by step.
I recommend making an initial investment in a coaching program as the right program will help get your business off the ground.
Whichever program you choose, be certain that they offer an active investor as a coach/mentor whom is available to you on a weekly basis.
The program should also provide you with a proven lead source, a method of how to determine what to offer for a property and a step by step process of how to be successful in this business.
The bottom line is you need to have a formula to be successful in this business, so do yourself a favour and make that initial investment on a real estate investing coaching program, but make certain they offer the necessary tools for success.
There are way too many programs out there that offer cd's and books and claim you will have all that you will ever need in their materials; nothing could be further from the truth so make sure you do your due diligence before choosing a program.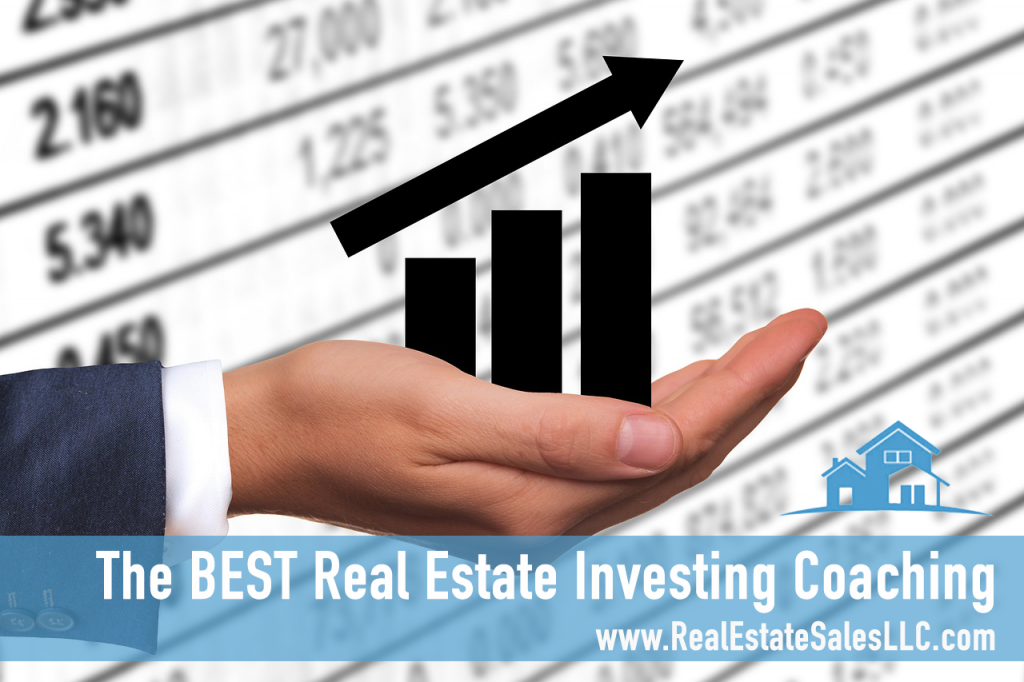 You need to be certain whichever program you choose that they are able to provide a successful investor as your mentor, a step by step business program that you can implement, a lead source, how to determine what to offer for properties and how to close deals.
There are many programs out there, but for me one stands above the rest as they offer all the components above and more and that company is Real Estate Sales LLC.
There are many good programs out there but be certain to do your research and choose the one that best fits your needs.
Many folks wish it was easier to be a real estate entrepreneur. There are many components to having a successful real estate business, I would recommend starting by focusing on wholesaling. The reason is wholesaling gives you the ability to learn the business without the risk/skin in the game. Acting as a wholesaler gives you the ability to invest in real estate without having to buy homes. As a wholesaler you are able to invest in real estate without having any skin in the game besides for option consideration similar to earnest money which gives you a small stake in the property.
As a wholesaler, your goal is to sign an option purchase contract on a piece of property. This option gives you approximately 30 to 90 days to either buy the property for yourself or sell the property to another individual.
An option gives an individual the contractual and legal right to buy a house but not the obligation to buy the house. So you have a right to buy, but you're legally not obligated to buy unless you exercise your right. That is the whole key to wholesaling.
Once you have the option contract, you can market it, you can sell it, you can assign it, and you can make money on the deal. The only thing you have to potentially lose is your option consideration, which is usually no more than 20 bucks.
The option contract gives you legal interest in the property, so it's completely risk free. If you are looking to invest in real estate without buying houses, wholesaling is the way to go, not to mention it will also help you learn your market without needing to put your money at risk.
The bottom line is being a real estate entrepreneur is not easy and you should not expect it to be, after all if it were easier than everyone would do it. If you don't want to put in the work and want a business that will be turnkey without doing any work than the real estate business is not for you. If you are willing to put in the work than you can have great success in this business.
Even with a great work ethic you will also need to have a quality source of leads, one that is updated and reliable, I personally recommend Real Estate Sales LLC as they have the best leads I have ever come across. If you can't find the properties, you are dead in the water. In addition to leads, you need to network with other investors and surround yourself with folks in the industry.
I would also recommend finding realtors who can help you locate properties with high profit potential. Once you are able to get a property under contract, you will want to have a list of cash buyers who are interested in properties in your area, to find these leads can be challenging, however Real Estate Sales LLC is one of the few companies out there that provides cash buyers to their clients – this is absolutely priceless!
Don't wish being an entrepreneur was easier, give yourself a competitive advantage by putting a system in place that will help you succeed and make sure to surround yourself with the appropriate folks.
Do all you can to get rid of any and all negativity and make sure to have extreme confidence in yourself. You can make this happen, just go after it and focus on one thing at a time.
If you are serious about making money in real estate you need to be sure that you put in the necessary work. Real Estate investing is not easy but what worthwhile is?
In order to have success in real estate you need to have systems to follow, a team of experts, a positive mindset, a strong desire to succeed and a great source of leads. One can have success without all those mentioned above, however a person will not be able to sustain success without these.
A real estate coaching program should help you put a plan in place for success.
I cannot stress enough how important a real estate investing mentor/coach is for your success.
You will have many questions along the way and I cannot tell you how valuable it is to have a successful investor to speak with when you have those questions. Real Estate Sales LLC is a program that not only offers their clients a business model to follow but also gives each one of their clients access to an investor whom has had and continues to have great success in their program.
These mentors are so valuable to your success and will be able to answer your questions and help to get your business moving in the right direction. Very few coaching programs offer as much as Real Estate Sales LLC and even fewer offer the quality of service of Real Estate Sales and that is why I recommend their program so very highly.
The real estate business is a relationship business, so be prepared to put in the time to build those relationships. If you are committed to having success you will need to do the necessary networking, you cannot expect to have success without it. Follow a business plan/formula and surround yourself with positivity, have a strong mindset and I assure you that will experience the success you deserve.
In real estate you can't expect to make money right away, in fact you should expect it to take some time but once you get started and understand your market space than there will be no stopping you. If you want to have sustained success in this business, invest in a coaching program and surround yourself with positive folks who will encourage you every step of the way.