Organization is the key to any real estate business. If you don't believe me, just start your own business and talk to me in 6 weeks and I assure you that you will agree with my assessment. Having systems in place is paramount when running your own business, especially in real estate business.
Having systems in place will help your business tremendously and give you a great chance to have long term success.
Anybody can fall into a couple of deals, but only those folks that have systems and a consistent way of running their business will be able to have longevity in their business.
Some real estate agents are natural sales people, but without the appropriate systems in place they will lose their shirt in the real estate game as not all deals are good deals.
You better be able to determine which deals are great and which ones are not if you are going to be successful.
Systems will help you do just that in your Real Estate Business.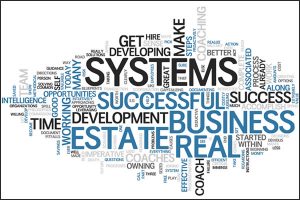 I have to be consistent in how I do things within my business and my systems have allowed me to do just that.
All deals cannot and should not be done in a vacuum, however you need to have a process of doing things to get to a certain point.
Unlike most real estate business investors, I believe in a gut feeling but only when and if my numbers work after I did my research first of all.
I use systems throughout my day and not just when determining if I am going to make an offer on a property.
Implement systems and I assure you that you will be more productive and in turn you will see greater success in your business.
More tips on our blog at realestatesalesllc.com/blog